Premium Jeans collection- Flare-BOOtCUT-SLIM-COMFORT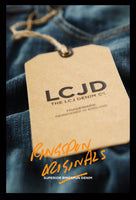 THE LCJ DENIM Co.
Welcome to LCJ Denim Co. online jeans store where you can buy quality jeans for men, women and kids.
Our Premium Jeans collection consists of 3 Key Fits for men, we have Flare Flared, Bootcut and Slim.
The fabric we use is high grade premium old school ringspun denim. 
Our Jeans are non mass produced and are made in very limited numbers. A true traditional English denim premium label.